Student's Corner
Published in 3rd Quarter 2016
Regularizing Medical Practices
The progress towards achieving health goals for people of Pakistan has remained uneven. Regulatory functions in the health sector have always been underdeveloped, poorly managed, and improperly implemented. In light of the increasing series of medical negligence, maladministration and malpractice cases in recent years (Huma Wasim Akram, Imanae Malik and Faiz Ahmad Khan), a need was felt for an autonomous authority at a provincial level to regulate healthcare services delivery in both Public and Private Healthcare Establishments.
In Pakistan today, there are two levels to regulate medical practice.
Pakistan Medical and Dental Council (PMDC):
PMDC is a regulatory body, and gives doctors their license to practice (after qualifying a doctor has to register with the PMDC in order to practice). If there is a complaint against a doctor, the PMDC can look into the matter and if the doctor is found guilty of negligence, PMDC takes action against him.
A medical practitioner cannot practice medicine without a license from the regulatory body which is the PMDC in our country. This regulatory body has a great responsibility both for implementing the guidelines for the medical professionals as well as for the education and looking after the medical needs of the general public. It is unfortunate that even our regulatory body (the PMDC) is suffering from political issues and the government is not playing its role; the political stakes are very high there.
Pakistan Medical Association (PMA):
The second level is at the Pakistan Medical Association (PMA), which is a representative body of doctors working both for the benefit of doctors as well as the patients. But the PMA cannot take any action as it is not a regulatory body like the PMDC. It has an ethical committee and if a complaint is brought to its notice, it checks the case and if it has some weight it can recommend it to the PMDC (or any regulatory body) for action. The PMA cannot take any action but can try to bring medical practitioners morally to a position that doctors who are in the wrong apologize or even pay compensation to the patient.
Till a few years back there was no law and the aggrieved patient or his family had two options — either go for litigation which is a time-consuming and expensive process given the way our justice system works or to take things in their hands and resort to violence.
A consensus emerged some years ago that although there is a regulatory body, the government should form a commission to regularize the functioning of the hospitals, clinics, laboratories and medical facilities functioning in various provinces of the country. The commission must look after the security of medical and paramedical staff and must ensure that the patient's rights are also taken care of. There should be well-defined standards of care and a mechanism of quality control of health delivery to the common man.
Both the hospital and doctors should be held responsible for a mishap during the management of patients if there was any medical negligence. The health facilities must only do the procedures where proper equipment and skilled personnel are present.
The PMA came up with a plan to make a commission taking on board all stake holders that included all health communities and their sister organisations, health secretary, health minister, law minister, advocate general, etc. and prepared a document, which became Health Commission Act in 2013 after passage from the Sindh Assembly; it was earlier adopted by the Punjab.
Punjab Healthcare Commission:
The Punjab Government promulgated the PHC Act, 2010. The Punjab Healthcare Commission was set up to ensure quality healthcare service delivery at all levels and also to protect the well-being of the patients.
Stakeholders of PHC:
Consumers/ patients
HealthCare Establishments
Department of Health District Governments
Medical Associations
HealthCare Professionals
Politicians
Donors
Media
NGOs
Roles and Responsibilities:
PHC is considered to fulfil following responsibilities within its mandate:
Maintain register of all healthcare service providers
Grant, revoke and renew Licenses – impose and collect fees
Monitor, enforce and regulate the implementation of Minimum Service Delivery Standards (MSDS)
Enquire and investigate into maladministration, malpractice, medical negligence and system failures
Advocate rights and responsibilities of recipients and providers of the healthcare services
Take cognizance of harassment of Healthcare Service Provider or damage to a Healthcare Establishment (HCE)
Promote healthcare establishments' capacity- building and organizational learning
Conduct awareness activities
Grade Healthcare Establishments
Take necessary steps to ban quackery
Conduct third party evaluation – independent performance audit of HCEs
Take measures and devise strategy to address counter sale of drugs without prescription
Develop Accreditation programs for healthcare service providers and grant accreditation.
Key Regulatory Functions:
Develop and notify Minimum Service Delivery Standards (MSDS) for all categories of Healthcare Establishments
Inspect HCEs to ensure compliance with the PHC standards
License HCEs that meet the standards. A HCE that does not meet the minimum service delivery requirements will not be licensed and will not be allowed to operate.
Suspend or revoke licenses in part or in full on non-compliance with standards, maladministration, mal-practice or medical negligence
Charge fees from healthcare establishments for licensing / provisional licensing
Levy fines on HCEs for non-compliance with MSDS
Investigate serious system failures in service provision
PHC is meant to stop malpractice and define patient's rights, to safe guard the security of doctors and paramedical staff, for quality control and standardization of medical practice, hospitals, clinics, laboratories, etc. and would help improve the quality of healthcare services and help eradicate quackery. The commission would educate both doctors and patients in what is right and wrong. It can ask the doctors to explain their position and tell them if it was their fault. It is binding on the doctors to accept the commission's decision. The commission has to set up protocols for hospitals, laboratories and theatres, and create awareness among the patients about the standards.
For the commission to be effective it is important that it is autonomous and free from government interference. The commission will be a platform for the patients to refer to get their grievances addressed. The commission will question the doctor for not fulfilling the identified standards and hold the doctors responsible and its decision will be binding for the doctors. It will recommend to the PMDC to cancel the doctor's registration if the doctor is involved in medical malpractice and negligence.
References: http://www.dawn.com/news/1203147 http://www.phc.org.pk/intro.aspx
…………………………………………………………………………………………………………………………..
Published in 2nd Quarter 2016
Fasting and its benefits to your health
Ramadan is a month of self-regulation and self-training, with the hope that this training will last beyond the end of Ramadan. If the lessons learned during Ramadan, whether in terms of dietary intake or righteousness, are carried on after Ramadan, it is beneficial for one's entire life. Moreover, the type of food taken during Ramadan does not have any selective criteria of crash diets such as those which are protein only or fruit only type diets. Everything that is permissible is taken in moderate quantities.
The only difference between Ramadan and total fasting is the timing of the food; during Ramadan, we basically miss lunch and take an early breakfast and do not eat until dusk. Abstinence from water during this period is not bad at all and in fact, it causes concentration of all fluids within the body, producing slight dehydration. The body has its own water conservation mechanism; in fact, it has been shown that slight dehydration and water conservation, at least in plant life, improve their longevity.
Some of the important benefits of fasting are:
1. Fasting Promotes detoxification
A detoxification process occurs, because of toxins stored in the body's fat are dissolved and removed from the body. After a few days of the fast, higher levels of endorphin appear in the blood, making you more alert and giving an overall feeling of general mental well being. The liver, kidneys and other organs in the body are involved in detoxification.
2. A Rest for Digestive System
During fasting, the digestive organs rest. The normal physiologic functions continue especially production of digestive secretions, but at reduced rates. This exercise helps to maintain balance of fluids in the body. Breakdown of food takes place at steady rates. Release of energy also follows a gradual pattern. Fasting however does not stop production of acids in the stomach. This is reason patients with peptic ulcer are advised to approach fasting with caution. Some experts believe they should not fast.
3. Can Reduce Oxidative Stress and Inflammation in the Body
Oxidative Stress is one of the steps towards aging and many chronic diseases. It involves unstable molecules called free radicals, which react with other important molecules (like protein and DNA) and damage them.
Several studies show that fasting may enhance the body's resistance to oxidative stress. Additionally, studies show that intermittent fasting can help fight inflammation, another key driver of all sorts of common diseases.
4. Reduction/ Control of Blood Sugar
Fasting increases breakdown of glucose so that the body can get energy. It reduces production of insulin. This rests the pancreas. Glucagon is produced to facilitate the breakdown of glucose. The outcome of fasting is a reduction in blood sugar. One study in diabetic rats also showed that intermittent fasting protected against kidney damage, one of the most severe complications of diabetes.
5. Increase in Fat breakdown
As the Ramadan fast only lasts from dawn till dusk, the body's energy can be replaced in the pre-dawn and dusk meals.
This provides a gentle transition from using glucose as the main source of energy, to using fat, and prevents the breakdown of muscle for protein. The fats stored in kidney and muscles are broken down to release energy.
6. Control of high blood Pressure
Fasting is one of the non-drug methods of reducing blood pressure. Use of fat for energy helps weight loss. It preserves the muscles and eventually reduces your cholesterol level. In addition, weight loss results in better control of diabetes and reduces blood pressure.
7. A Mean to Weight loss
Fasting enhances hormone function to facilitate weight loss. It works on both sides of the calorie equation. It boosts your metabolic rate (increases calories out) and reduces the amount of food you eat (reduces calories in).
8. Fasting Promotes Healthy Life style
It has been observed that fasting reduces craving for processed foods. It promotes desire for natural foods, especially water and fruits. This is one way fasting promote healthy lifestyle.
9. Boosts Immunity
When an individual is on balanced diet in between fasts, this can boost immunity. Elimination of toxins and reduction in fat store also helps the body. When individuals take fruits to break a fast, they increase the body's store of essential vitamins and minerals. Vitamins A and E are good antioxidants readily available in fruits. They help to boost immunity.
10. Help to Overcome Addictions
Some authors show that fasting can help addicts reduce their cravings, for nicotine, alcohol, caffeine and other substance abuse. Although there are other regimens required to resolve addictions, fasting can play a role.
11. Good for your Brain
Fasting improves various metabolic features known to be important for brain health. This includes reduced oxidative stress, reduced inflammation and a reduction in blood sugar levels and insulin resistance.
Several studies in rats have shown that fasting may increase the growth of new nerve cells, which should have benefits for brain function.
References: Seliger, S. & Haines, C.D. (2012) 'Is Fasting Healthy?' Accessed from http://www.webmd.com/diet/features/is_fasting_healthy   Panjwani, M. (2009) '11 Health Benefits of Fasting', Accessed from http://mushpanjwani.com/2009/08/23/11-health-benefits-of-fasting/ http://www.ncbi.nlm.nih.gov/ https://authoritynutrition.com
…………………………………………………………………………………………………………………………..
Published in 1st Quarter 2016
Doing Business in Japan
By Wajiha Sagheer
Japan is the third-largest market in the world after the United States and China. For this and other reasons it is attractive for foreign multinational firms, large and small. It is also very different from other countries – politically, economically, and culturally – and these differences can present major challenges for market entrants.
1) Research the Japan Market:
Research the culture, the market, the competition, and the relevant network affiliations. It is a tough, competitive market, characterized until recently by relatively closed inter firm business networks and a unique political, legal, and institutional infrastructure.
2) Consider the Customer is First:
Understand that in Japan more than any other market "customer is king," quality is paramount, and a deep rooted service philosophy is required. Most Japanese firms had long-term relationships with buyers and suppliers characterized by reciprocal trust rather than short term contractual or price-based arrangements. Breaking these ties by doing business with outsiders could affect these local relationships, so despite the potential for short- term gains, it tended to be avoided. A wide range of government-related obstacles, including binding red tape and uncertain regulations pertaining to foreigners and foreign companies, created additional constraints for foreign firms in Japan.
3) High Quality Products:
Be patient ("wait on the stone") and show long-term commitment; personal and corporate reputation is important and takes time to develop. The Large Retail Store Law still remained to protect small retailers and indirectly supported the tied distribution networks of large keiretsu, creating additional barriers for foreign firms. These are innate characteristics of doing business in Japan and key reason why Japanese firms themselves are so innovative.
4) Offer Set of Product:
Show sensitivity in all interaction: social gatherings are important and rituals and hierarchy have to be   respected. More often than the direct actions of Japanese government agencies or collusion among corporate groupings, the above constraints for foreign firms in Japan simply stemmed from differences in Japanese business infrastructures, legislative mechanisms, management practices, and consumer preferences. Foreign managers have also cited competition with Japanese companies and the strictness of orders from Japanese customers in terms of quality, delivery, and after-sales service as key constraints in the past. Successfully developing a business in Japan is an excellent test of a firm's competitive advantages.
5) Attack and Counter Attack:
Invest to adapt products, services, marketing, and management style. More recently the continued downturn in Japan's domestic market has made it less attractive but easier to enter Japan. Government deregulation, the loosening of keiretsu ties, falls in distribution cost, improvement(s) in the availability of qualified personnel and changing consumer preferences have helped foreign investors. Foreign companies also cite falls in land prices, office rent, and utility costs as specific improvements in the Japanese business environment. are also seen as important factors.
6) Stay the Course:
Continually innovate, stay ahead of the competition. The Japanese government has taken steps to improve access for foreign firms, partly to increase consumer choice and stimulate spending and partly to expose local firms to outside competition. Policies aimed at tax reduction and favorable legal and institutional reforms alongside improvements in labor market flexibility, are helping increase FDI to Japan.
7) Use Japan as a Jumping off Point:
Use Japan to learn, to improve, and to access other Asian markets. The British retailer Tesco provides another indication of the renewed interest in Japan. In 2004 it increased its commitment to the Japanese market by acquiring the neighborhood supermarket business of Fre'c via its wholly-owned subsidiary, C Two Network Co. The sale of Fre'c was coordinated by the Industrial Revitalization Corporation of Japan (IRCJ), a government-affiliated body set up in mid-2003 to purchase the non-performing loans of viable but indebted companies.
Conclusion:
Japan will, arguably, continue to be one of the most significant economies in the first quarter of the twenty-first century. It is quite obvious to be trained in traditional Japanese practices and social structure. Mutual understanding can only contribute to avoiding the many potential stumbling blocks and smoothing the way to mutual success.
Source: Rugman, Alan & H. Hodgetts Richard," International Business" 4e Websites: www.seiyu.co.jp; and http://www.jetro.go.jp/en/invest/whyjapan/success_stories/
…………………………………………………………………………………………………………………………..
Published in 2nd Quarter 2015
Health Insurance as Micro-insurance
Low-income families strive to maintain the fragile balance between limited income and on-going financial needs. Given the precariousness of their financial situation, events that require additional expenses can deal a heavy blow to the poor. To better understand their financial implications on low-income households, let's look at these stress-producing events, which can be categorized as either risks or economic stressors.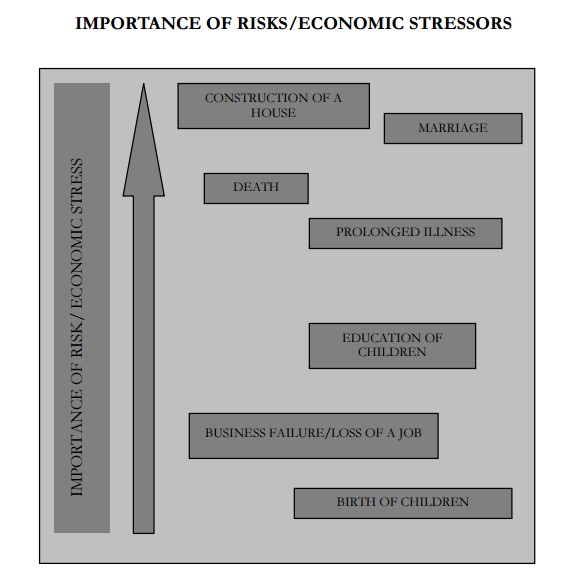 According to it, following are cited as the top economic stressors, in terms of the amount of economic stress that each puts on a family:
Construction of a house
Marriage of a son/daughter
Education of a child
Birth of a child
However, the greatest amount of economic pressure is exerted by following:
Prolonged illness
Death of a family member
Business loss or Business failure
What is Micro Insurance:
Micro insurance is defined as:
"Insurance provided to low income group of people by payment of regular premium (in proportionate to the cost and likelihood of loss/ risk), against specific perils"
Micro insurance, like regular insurance, may be offered for a wide variety of risks. These include both health risks (illness, injury, or death) and property risks (damage or loss).
A wide variety of micro-insurance products exist to address these risks, including:
Health insurance,
Term life insurance,
Death insurance,
Disability insurance,
Crop insurance,
Livestock/cattle insurance,
Insurance for theft or fire,
Insurance for natural disasters, etc.
Micro-insurance in Pakistan:
Although life expectancy, health, and living standards have improved in the last few decades, this growth has not been uniform across countries and even within countries there exist stark disparities in health outcomes.
Micro-insurance suits countries like Pakistan whose majority population consists of low-income households. Yet this service remains in nascence, needing a boost. Micro Insurance is still in its nascent stages in Pakistan. More than half of the current micro-insurance policies in effect in Pakistan are offered through the Benazir Income Support Program (BISP), with the remainder provided in conjunction with microcredit services offered by various microfinance institutions (MFIs), microfinance banks, nongovernment organizations, and rural support programs (RSPs). The policies offered by the micro-credit sector are mainly Credit Life policies, which cover loan balances in the event of the borrower's death. In addition, some lenders, principally the RSPs, offer small health insurance policies covering the hospitalization of the borrower and (sometimes) their spouse. As catastrophic health expenses and deaths in the family are among the most important economic stressors that households face, it makes sense that micro-insurance should first make inroads in these areas.
In the rural areas, people often face higher costs for some events especially health where there is limited services and they need to travel a significant distance to the nearest health care centre. Also, they have been found to have lower and less secure income. Such people now also see the natural disasters as a major risk for them and worth insuring against, to protect their land, house and livestock.
Benazir Income Support Programme:
The BISP was initiated by government of Pakistan in year 2008 to establish a comprehensive social protection system as part of the National Social Protection Strategy. Reportedly, BISP has been testing a pilot to introduce life insurance program for poor households. The life insurance program started in early year 2011 and provides life insurance cover of PKR100,000 to the head of the household. Currently there are over 2 million persons covered in this life insurance program.
National Health Insurance Scheme:
If the available statistics are anything to go by, then only a quarter of Pakistan's population is covered for health care costs with the rest, mostly poor people in cities as well as villagers, paying out of their own pocket for healthcare.
With more than 25 per cent of the population living below the poverty line, many are pushed into the 'medical poverty trap', or worst, do not receive any care.
Considering these circumstances necessitates financial risk protection for healthcare, the Ministry of National Health Services, Regulations and Coordination intends to initiate the 'National Health Insurance Scheme' to provide the people with comprehensive health cover.
Government is also planning to launch a health micro-insurance program soon, on a larger scale, in conjunction with leading health insurance providers of the country.
For those local insurers already writing micro-insurance business, it represents nearly 5 percent of total premium written. However, those insurers with experience of micro-insurance can see long-term potential, while stating that they are willing to continue in this business and generally believe that it can be sustainable.
Features of Plan:
Under the plan,
The provincial governments will contribute premium covering common ailments and injuries with financial implications up to Rs.35,000,
Whereas the federal government will contribute premium covering serious ailments like cancer, heart diseases, all forms of hepatitis and specialised surgical procedures.
The scheme will be operationalized either through an existing insurance company or register a new company with the Security and Exchange Commission of Pakistan under the Companies Ordinance, 1984.
Restrictions of Plan:
Premium affordability especially in rural areas, for people with low and insecure income
Lack of insurance awareness (which is typically quite low, especially in rural areas)
In developing the market for micro-insurance, one needs to estimate the need and then create the demand through various enabling mechanisms such as consumer education, financial subsidies, mandatory insurance coverage, etc.
In Pakistan, group health insurance business is allowed to be written by both life and non-life insurers. It is mostly written for corporate accounts, although recently some providers have also started the retail or individual health insurance. This is a highly competitive market and often attracts quite handsome premium from corporate clients with large number of insured lives. However, the product also may attract lower premium than sound rates depending upon various factors. The product is being used by many insurers in Pakistan industry as supportive/ catalyst class of insurance i.e. to attract other businesses of major corporate clients e.g. Fire, Motor, Miscellaneous.
Considering Health insurance as part of Micro-insurance, economy can be benefited immensely. Catastrophic events such as Floods, Earth Quakes and major fires shook up the lives of millions of underprivileged people. Owing to "insurer as last resort", Government is called for help of devastated families in such scenarios. In developing country like Pakistan, it is not possible for Government to compensate all the losses out of its own pockets, rather a combine effort in the form of internal and external aid/ donations are used for relief works.
What needs to be done?
As health insurance is in its nascent stages in Pakistan, much work needs to be done in this class. A further issue is lack of strong technical pricing or underwriting capacity within some of the medium to small non-life insurers. Awareness among public and corporate sectors needs to be raised for insuring the lives of their employees together with immediate family. This will not only help the employees work with peace of mind and without the stress of financial impact of any disease, also, it will result in improved output by employees in their work.
Health insurance cannot be provided effectively without proper infrastructure. The relation between health insurers and health services providers is of vital importance for the successfully transferring the benefit to the lives. In this regard, it is important to communicate to the health services providers i.e. Hospitals, clinics etc. that the health insurance is in fact to benefit the niche that otherwise cannot avail better services out of their own pockets. Health services providers must join hands with insurers to better facilitate these patients.
We hope that the health insurance will be blooming soon with the mutual contributions of Government, Insurance Companies and Health Services providers.
Sources: http://121.52.153.179/JOURNAL/LJE%20vol%2018%20se/15%20Thompson%20and%20Nabeel.pdf https://en.wikipedia.org/wiki/Microinsurance http://www.access-to-insurance.org/home.htm http://www.secp.gov.pk/corporatelaws/pdf/MI_Report_16102012.pdf www.tribune.com.pk/ …………………………………………………………………………………………………………………………..
Published in 1st Quarter 2015
Insurance Frauds
In criminal law, a fraud is an intentional deception made for personal gain or to damage another individual. Fraud is a crime, and also a civil law violation. Defrauding people or entities of money or valuables is a common purpose of fraud.
Fraud can be committed through many media, including mail, phone, and the Internet (called cyber-crime/fraud). The international dimensions of the web and ease with which users can hide their location, the difficulty of checking identity and legitimacy online, and the simplicity with which hackers can divert browsers to dishonest sites and steal credit card details have all contributed to the very rapid growth of Internet fraud.
In some countries, tax fraud is also prosecuted under false billing or tax forgery.
Types of Insurance Frauds:
Insurance fraud can be external or internal:
External Frauds: It takes a variety of forms, such as;
The inflation of genuine claim, e.g.in the case of a burglary including items that were not in fact stolen.
Creating an entirely factious event, e.g. a theft that never took place.
Causing deliberate, as opposed to accidental, damage to insured property, i.e. pouring water into video recorder.
In connection with fraudulent exaggeration it has been held by the courts that a degree of exaggeration designed to improve an insured's bargaining power is permissible but submitting claims for the amounts known to be incorrect and substantial; in excess of the correct figure clearly constitutes fraud.
Internal Frauds are those perpetrated against a company or its policyholders by agents, managers, executives, or other employees. Examples include:
Agent or insurer pocketing premiums, then issuing a phony policy or none at all.
Agent or insurer issuing fake policies, certificates, ID cards or binders.
Agent or insurer making a false statement on a filing.
Agent fraudulently claims binding authority which does not exist.
Agent issue policies or certificate fraudulently.
Failure to issue a cover-note at the commencement of a risk and the subsequent "Back dating of cover".
Hard vs Soft Frauds:
Hard fraud occurs when someone deliberately plans or invents a loss, such as a collision, auto theft, or fire that is covered by their insurance policy in order to receive payment for damages.
Soft fraud, which is far more common than hard fraud, is sometimes also referred to as opportunistic fraud. This type of fraud consists of policyholders exaggerating otherwise legitimate claims. For example, when involved in a collision an insured person might claim more damage than was really done to his or her car. Soft fraud can also occur when, while obtaining a new insurance policy, an individual misreports previous or existing conditions in order to obtain a lower premium on their insurance policy.
Insurer's Attitude to Fraud:
In the past because of adverse publicity, particularly if court proceedings were involved, was a major reason of reluctance to adopt a routine approach for fraudulent cases.
Today, insurers are taking hard-nosed approach because of the following changes:
Enhanced understanding of fraud motivators.
Co-operation between the insurance companies to re-educate the public.
Advances in technology.
Detection of Insurance Frauds:
Experienced claim handlers are able to identify a large number of fraudulent claims relatively easily; they do so because of the existence of one or more so called pre- fraud indicators:
Frequent change of insurers: to avoid the attention of a particular insurer.

Uncharacteristic increase in the level of cover:

For example, a request to add accidental cover mid-term.

Unclear ownership of goods:

in particular of motor vehicles. This suggests that either an item does not exist or else it has been borrowed for claim purposes.
Financial difficulties: These are not readily identifiable by the insurers, information may come to light. e.g. where there is a loss of cash claim and bank statements, provided to substantiate a cash withdrawal, show a substantiate overdraft.
In addition following will also cause suspicion:
Prevarication by the insured.
Excessive pressure to settle
Inconsistent story which shows fabrication of facts
Poor documentation
Perfect documentation (appear "too good to be true" to an experienced claims handler)
Obstacles to Measuring Fraud:
Insurance fraud is hard to measure accurately. Insurance fraud means many different things to different people, and therein lays one of the biggest challenges in measuring fraud "There is no universally understood definition of insurance fraud."
From a strict legal sense, a fraud exists only when a court has deemed it so, either through criminal or civil rulings. While measuring court actions is relatively easy most of the time, the results may not be meaningful in gauging the fraud problem because only a small fraction of fraudulent acts ever end up in court.
Other possible areas to measure include:
Prosecutions and civil cases brought to light
Cases referred to prosecutors
Criminal arrests and civil complaints
Cases referred to law enforcement
Claims denied or reduced
Red flags triggered
Even with these criteria, not all fraudulent acts will be captured because some go undetected during the claims process while some suspected of fraud are established as valid.
Another obstacle is defining the type of fraud to measure. Most fraud estimates focus on claims fraud. Applications, underwriting or premium fraud go largely unmeasured. Fraud by insurers or company insiders also is rarely quantified.
Lines of insurance also define how and what gets measured or even estimated. Property/casualty insurance, specifically automobile and workers compensation, have received the greatest attention. Health insurance frauds are also increasing. Research of life and disability insurance fraud is virtually nonexistent, yet there are signs that criminal activity is growing in both areas.
Insurers Responses to Fraud:
As a part of the anti-fraud culture, insurers are raising the general awareness of fraud within the insurance industry. This doesn't mean that a genuine claimant may be subject to unnecessary harsh inquisition at the time of a claim.
Use of confidential telephone lines to facilitate confidential and anonymous tip-offs is an example in this regard.
Fraud Clauses:
Many insurance policies contain an express clause that all benefits otherwise due under a claim will be forfeited where fraud is proven. The position at common law is that a claim is in any respect fraudulent; all benefits under the policy are forfeited. There is then no need for a specific fraud condition to be inserted in insurance policies but it is usual to include such clauses to strengthen the insurer's position.
Red Flags applying to the Insurance Policy:
Policy is relatively new in relationship to the date of loss. Policy is due to expire shortly.
Agent may have been contacted recently by the insured regarding questions concerning coverage."
May be duplicate, multiple policies.
May be recent changes of coverage such as amendments to a policy to insure a scheduled item.
Excessive or unusual coverage. In the case of life insurance, rarely are policies sought where a physical exam is required and quite often there will be numerous "small coverage" policies.
Online policy applications are susceptible to abuse due to their anonymity.
Red Flags applying to the Insured:
May often pay premiums in cash.
May often use an agent or agency, which may show a somewhat unusual pattern of claims by his/her clients.
May show an extensive "claims history" not especially pertaining to the same type of loss; however, then may again show very similar losses.
May show losses relative to times in which they are experiencing financial hardships or perhaps "premiums" are due.
May show losses during times in which there may be issues pertaining to rented or leased vehicles or property. Excessive mileage or perhaps damaged property may very well cause additional fees to be incurred by the insured.
May be very well versed on the claims process and/or terminology.
May exhibit an unusual demeanor.
May seem over willing to accept a small settlement to stop processing of the claim.
May exhibit inability to recall specific facts regarding the loss, very often will be vague on details.
May be hesitant to submit to an examination under oath or to specific questioning.
May fail to mention "medical injuries" until they have acquired legal representation.
May have the skills to restore a vehicle that has been "totaled in a hail storm" to look like new with a little dry ice.
Red Flags applying to the Claimant:
May be somewhat elusive. Claimant may use a post office box, multiple addresses, hotel or motel, or perhaps a "drop box" as an address. Often provides a cell phone number, in which use of "voice messaging" is common. May provide names of witnesses who are just as elusive. May provide witnesses who are over enthusiastic or perhaps provide scripted statements. May emphasize his/her willingness to accept quick reduced settlements. May threaten extended medical treatment or "seeing" an attorney. May be unusually familiar with medical care, vehicle or home repair, or insurance terminology. May be experiencing personal, financial, or business difficulties. May refuse or become evasive when asked specific questions. May have an extensive or somewhat unusual claims history. May approach an agent sometime prior to a loss with specific questions regarding coverage. In the case of an automobile accident, claimant's vehicle may not be available for inspection. May be hesitant to be examined by an independent medical provider. May be hesitant to submit to an examination under oath. May use medical and legal providers who may themselves show questionable claims provider histories. May have waited several weeks prior to seeking medical treatment. May have sought treatment for "soft tissue" type injuries and/or extensive chiropractic treatment. May provide "differing" lists of damaged/stolen property regarding an insurable loss. May provide questionable "proof" of purchase for expensive items. May provide invoices or estimates that appear to be "inflated" and/or altered.
Remedies of Fraud:
Cancellation of the policy (from the date of the fraudulent claims).
Avoidance of the policy ab-intio (i.e from the very beginning of the contract.)
In certain circumstances, the insurer has the right to retain any premiums paid on policies where fraud is subsequently discovered.
Damages may also be available to an insurer who suffers loss directly attributable to fraud the insured.
Various criminal remedies, for example confiscation of property or term of imprisonment.
Complexities in Fraud Control:
Fraud is not self-revealing: This means that the fraud has to be looked for to be discovered. One only sees what is unveiled; and that is never the problem, Sparrow regularly claims. Fraud control is subject to constraints of speedy detection and minimal investigation lead time.
Proving fraud legally is difficult:  Mere suspicion is not enough to act as legal proof. The warning signs that trigger suspicion may be suggestive of a degree of risk, but often fail as definite proof "beyond reasonable doubt".  Considering the seriousness of the allegation one needs solid, high standard legal evidence of fraud.
News on fraud is always a bad news:  Fraud control is not only a complex matter, it is especially hard to sell to management. "Failure to detect fraud is bad news, and finding fraud is a bad news too." The very existence of fraud is an embarrassment to insurers and their management.
Recommendations:
Develop concise definitions of fraud for the purposes of uniform measurement, and promote the understanding and use of the definitions with industry, government, academia and the media. Terms might include "suspected fraud," "referred fraud" or "convicted fraud," depending on the action taken. Make clear the role of exaggerated or buildup claims as they relate to the definitions of fraud.
Investigate the feasibility of developing methods of conducting closed claims studies in non-auto lines, including homeowners, workers compensation and health insurance.
Investigate securing the aggregate reporting data insurers file annually with state insurance departments, to determine whether data could be extrapolated for measurement purposes.
Develop methodologies for measuring the extent of fraud in the application process, especially in automobile and life insurance.
In the interim until more accurate measurements can be ascertained, major anti-fraud organizations should seek agreement on more-consistent estimates, or perhaps resist publishing estimates that are not based on some level of scientifically valid empirical studies.
Centralized database needs to be managed for sharing the claims within a specific class of business. A unified, all-industry approach to measurement is needed to detect and cater frauds.
(Source: Various Books Consulted)
…………………………………………………………………………………………………………………………..
Published in 4th Quarter 2014
Is Change Good or Bad???
In today's ever-changing world, the only thing that doesn't change is 'change' itself. One cannot escape change. Change is inevitable. We all know that we cannot escape to cloud nine whenever we are faced with change. Some people will say that change is always good others will contradict them. So, the question here is what do you think about change? Is it good or is it bad? There is no straight answer to the question as nothing is always good or bad. For instance, if I have to type my article on typewriter rather than on my laptop where I can easily amend it then I will prefer change from typewriter to laptops. But if I cut my hair and it doesn't suit me then I will say change is bad. So, the change varies from situation to situation. In order to improve our daily lives we are forgetting the importance of things. The evolution of social media has deprived us from our true social lives. Now we have time for our 1000 facebook friends but we cannot spare a single moment to listen to our parents and friends in real life. "Life is a series of natural and spontaneous changes. Don't resist them; that only creates sorrow. Let reality be reality. Let things flow naturally forward in whatever way they like (Lao Tzu)."
Is Change Bad?
Apple was always a fruit which was supposed to keep doctors away. Reading a book was once one of the happiest moments of my life, the smell of new pages was so fascinating for me and I used to read the whole book in one night but now when books are away from one click, I have lost my love for them. Assignments and homework was meant to teach us new things but now with copy paste we have mastered the skill of fooling our teachers and ourselves. Watching TV was supposed to be a family time. With limited photos options we always used to capture the moments of love and joy and after several years we enjoyed flipping through these albums with our loved ones but now we just capture every moment of our life and shared it with people who are least bothered. Kids were innocent. Laughing was a feeling not a word (LOL). Gaming was an outdoor sport. We used to enjoy TV time when we had only one channel and limited shows to watch. On events of Eid, Christmas, Graduation etc real cards were sent which showed the gratification of the sender. The death of our loved ones is not a change we want. "Things change. And friends leave. Life doesn't stop for anybody (Stephen Chbosky)". Divorce is not a positive change. There are so many comparisons between pre and post change but the purpose was not to debate on that changes and what these changes has changed in our lives. We are just trying to understand is change good or bad? I was discussing the changes which I have seen but there will be people who had seen times when there was not even a TV and camera. Therefore, the comparison for them might be different.
Is Change Good?
Change is important for life itself. Stagnant water smells. If death of loved one is a negative change then the birth of one is a positive change. There is no rule of thumb about change and its impacts. If no one had invented the computers then communication around the world would have been almost impossible. When pilgrims went to their sacred places for worships their loved ones were not aware about their whereabouts. Travelling was not easy in past, travellers spent several days, weeks and even months to reach their destinations. If we are given same food every day then we will get bored and asked for something new. As we all are well known with the Mano Salwa's history. "Allah provided them with food called   Mano Salwa from the skies. Prophet Musa (as) struck his staff on the rocks and water gushed out for the Israelis, they refused to be content with one dish and asked Hazrat Musa (as) for other kinds of earthly foods (Baqarah:61)." Change is mostly linked with technology but it's not always true. The changes one face in his/her life also lies under this category.  Without change there will be no adventure in life. People are terrified of change because it forces them to get out from their comfort zones. To succeed in life one has to get out of his comfort zone. Humans are afraid of unknown and change is facing this unknown. Just imagine if weather remains constant and you are deprived from rain and snow then how you would feel about it? Getting married, raising kids, all this is possible due to the factor known as change. If you don't try to adapt the change you will never feel comfortable as we all know we cannot escape change, then why don't waste that energy in trying to make it your new comfort zone rather than wasting it in avoiding it. "The only way that we can live, is if we grow. The only way that we can grow is if we change. The only way that we can change is if we learn. The only way we can learn is if we are exposed. And the only way that we can become exposed is if we throw ourselves out into the open. Do it. Throw yourself (C. JoyBell C)." Allah has provided us with so many things such as four seasons, different types of weathers (snow, rain, sun, clouds etc), so many types of fruits/vegetables, so many species of animals, day and night, friends and family; these all things pointed towards only one thing that we need change. Humans cannot spend a routine life, they need change. Otherwise we were still living in the dark days.
Change is in human nature. We cannot fight it. So, stop feeling threatened by it and try to get comfortable with it. Even take it as a challenge and enjoy it. Once you stopped feeling afraid of changes in your life, you will start loving it. I am not saying that every change is positive but you can only feel relaxed once you accept it. It's often toughest when you are going through it especially the negative change but have faith in Allah and then you will see that everything will get better.
"When we least expect it, life sets us a challenge to test our courage and willingness to change; at such a moment, there is no point in pretending that nothing has happened or in saying that we are not yet ready. The challenge will not wait. Life does not look back. A week is more than enough time for us to decide whether or not to accept our destiny (Paulo Coelho)."
…………………………………………………………………………………………………………………………..
Published in 4th Quarter 2014
The Nature & Meaning of Management
The simplest definition on management states that 'management is getting things done through other people'. It sounds very simple. According to this definition, mangers do not do things, rather they get other people to do. If managing is an individual ability to get things done, then it is no problem. We can plan and perform things according to our own convenience and interests. When somebody else is involved and we want things done through them, there is difficulty and all sorts of problems arise. Personalities come into contact and conflict and interpersonal problems crop up. We have to understand the behaviour of other people and must have knowledge on how to motivate them in order to get things done through them. We have to consider the conveniences and interests of others also in planning and implementing things.
In order to get things done through other people, have to be coaxed, shown, inspired and motivated, this is what management means. It brings a new dimension into the picture and these activities are not performed only by the people at the top. Managers are people at all levels in the organization from top to bottom, from the Chairman of the board to the front line supervisors etc. All these people are engaged in similar kind of activities. They use the above mentioned methods to get things done through other people.
'A manager is someone who works with and through other people by coordinating their work activities in order to accomplish organizational goals.'
Now let us discuss the comprehensive definition of Management and its meanings.
Management is guiding human and Physical resources into dynamic organization units that attain their objective to the satisfaction of those rendering the service.
Let us also analyse the meaning of this definition. Management involves guiding human and physical resources by keeping a balance and at the same time a Manager cannot emphasis on physical resource and ignore human resource and vice versa. This definition brings out the dynamic nature of the organization. Organizations operate in an ever changing environment and the businesses that have failed are those that have ignored the changes in the environment. This is because technology changes, markets change, products and services change, people change therefore organization must change. These organizations which readily adapt to change are said to be dynamic.
Attainment of objectives is the next part of the definition. Without objectives there is no meaning to an organizations existence. A manager must know and set his/her objectives and goals. Objectives are like an estimate of end result expected in future. Out of objectives or goals that are developed, goals are more specific than objectives. A performance measure for attaining these goals is the level of satisfaction of those served and the public or customers are those served by the organization. The last part of the definition speaks of the high degree of morale and satisfaction on part of those rendering the services. The kind of satisfaction the members of the organization derive from their work has an impact on the achievement of goals and the satisfaction of customers.
A question arises, IS MANAGEMENT A SCIENCE, ART OR A PROFESSION?
Those who view management as an art feel that one gains expertise in the field of management only by practise. Practise gives an intuitive knowledge to solve various organizational and managerial problems. Only by experience and practice can one gain such knowledge. Those who view management as a science feel that organizational and managerial problem-solving requires the knowledge and application of scientific methods and techniques rather than relying on intuition. A more rational approach to this issue is to view management both as a science and an art.
'Knowledge (science) without skill (art) is useless. Skill (art) without knowledge (science) means the inability to pass or learning.'
Now let us focus our attention on the characteristics that are often used to differentiate a professional and a non-professional. These characteristics are:
(a) A formal body of knowledge together with the skills necessary for application.
(b) Conforming to officially sanctioned ethical norms governing professional and personal behaviour.
Edger Scheim points out the following characteristics about professionals:
Professional decisions are based on the principles and the ones that are independently valid for a particular case.
Professional decisions imply a specialized type of expertise, not general knowledge.
Professionals derive their status from their success in their work, not on the basis of social class or political knowledge.
Professionals usually know what is best for the client.
We can come to a conclusion that a management as a field of study and practice meets these criteria and hence can be considered a profession.
news & events