EFU Life and HABIBMETRO to provide Takaful Protection to Roshan Digital Accountholders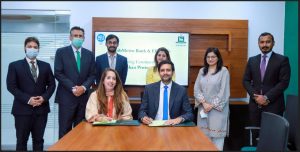 EFU Life Assurance Ltd and HABIBMETRO have joined hands to offer EFU Roshan Protection Plan for the Roshan Digital Accountholders of HABIBMETRO.
The agreement signing ceremony was attended by Mr. Ahmed Shah Duranni (Group Executive Retail Banking HABIBMETRO), Mr. Mohammed Ali Ahmed (Deputy Managing Director EFU Life), Ms. Sarah Irfan (Head of Liabilities & Wealth Management HABIBMETRO), Ms. Nilofer Sohail (Head of Channel Strategy & Execution EFU Life) along with other representatives from both the organizations.
Roshan Digital Account is a complete and innovative digital banking solution that integrates the Pakistani diaspora with Pakistan's banking and payment system – from opening a bank account online to offering various innovative services to the Non Resident Pakistanis (NRPs) for themselves and their families.
Prime Minister Imran Khan has, on various occasions, termed overseas Pakistanis as the 'most patriotic' and has highlighted the commendable contribution made by the NRPs towards the financial inclusion and the economic advancement of the country. "EFU Roshan Protection Plan" is a complete takaful protection plan which has been designed keeping in mind the broader vision of the Government of Pakistan and State Bank of Pakistan. This is an entirely digital plan which does not require any paper documentation and gives peace of mind to the NRPs by providing them with innovative offerings such as Income protection, Health protection for their families, and preventive health measures for both the NRPs and their families in Pakistan.
Speaking at the occasion, Mr. Mohammed Ali Ahmed said, "The RDA platform provides various facilities to NRPs and we identified insurance as one of the needs that could be addressed via this initiative. Since RDA was launched, we have been engaged with various stakeholders, including international organizations, who will be providing their services to make this offering unique and need based for NRPs".
 Mr. Ahmed Shah Duranni concluded, "This proposition will further strengthen our HABIBMETRO Roshan Digital Account offering for Overseas Pakistanis and those Pakistanis with declared assets abroad, who are looking for a comprehensive digital banking solution that enables them to conduct banking services and avail insurance solutions from anywhere in the world."
flash news